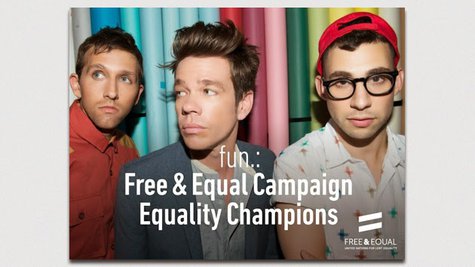 The members of the band fun. have always been huge supporters of gay rights and gay equality, so it's no surprise that United Nations Free & Equal -- a gay equality campaign from the U.N. human rights office -- has tapped them to help.
By joining the campaign as "equality champions," the band will spread its message via social media. "We as musicians stand with the LGBT community in any way we possibly can," said fun. guitarist Jack Antonoff in a statement. "Together, we have the ability to make the world a freer and more equal place."
In 2012, fun. co-founded The Ally Coalition , which works to inspire people, especially those in the music, fashion and entertainment industries, to support LGBT equality, gender equality, and civil rights. Jack Antonoff also co-wrote the Sara Bareilles hit "Brave," which was inspired by one of Sara's friends who decided to come out It eventually became a universal anthem of empowerment for anyone, gay or straight.
The Free & Equal campaign raises awareness of violence against LGBT individuals, and encourages greater respect for their rights worldwide.
Copyright 2014 ABC News Radio