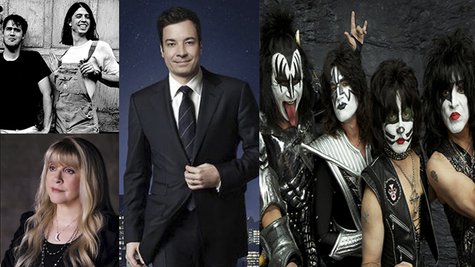 They might as well rename it "The Rock and Roll Hall of Fallon."
The Tonight Show Starring Jimmy Fallon this week will pay homage to the Rock and Roll Hall of Fame by featuring two of the Hall's biggest-name 2014 inductees, and one veteran Hall member who is performing at this year's induction ceremony.
On Wednesday, surviving Nirvana members -- and 2014 inductees -- Krist Novoselic and Dave Grohl will appear on the show . No word on whether they'll perform -- they're listed as guests and not musical guests. Also on Wednesday's list is musical guest Stevie Nicks , who will have backing from The Roots . Nicks is a guest vocalist at this year's induction ceremony -- she'll take part in a tribute to inductee Linda Ronstadt .
On Friday, the members of KISS -- who will be inducted but not performing at the ceremony April 10 in Brooklyn, NY -- will be packing their seven-inch heels for their trip to play The Tonight Show .
Copyright 2014 ABC News Radio