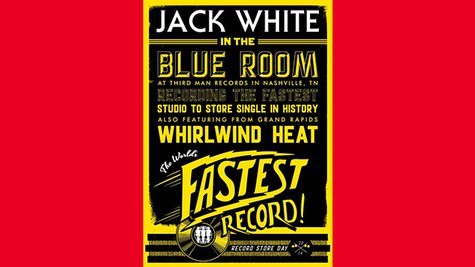 Jack White will celebrate Record Store Day April 19 by setting a record for the World's Fastest-Released Record. If you think that's a lot of records, it gets even better: White says he won't stop until everyone who wants one, gets one.
Here's the plan: on Record Store Day, White will duck into a recording booth at Third Man Records in Nashville at 10:00 a.m. ET and perform a special rendition of his new single, "Lazaretto." The master will then be rushed to a nearby pressing plant, which will start churning out 45s of the song. Photos taken at the morning's recording session will be used to make a picture sleeve, and the 45s will be transported back to Third Man, where they'll be available for sale during regular business hours to anyone who wants one.
Unfortunately, you have to be there in person to score a copy, and there will be a limit of one record per customer. But if you make it there, White promises, "As long as there are fans in line waiting to buy the single, [we] will continue to press and deliver them to Third Man to sell. Even if it takes all day."
It gets better. There are a limited number of Ultra Tickets going on sale at 3:00 p.m. today, which are available only to Third Man Vault member. The Ultra Ticket entitles the holder to watch Jack White record the song, including lunch at Third Man, a performance by Whirlwind Heat , and a copy of the vinyl single handed to you as you leave -- no waiting in line. To become a Vault member, go to ThirdManRecords.com
"Lazaretto" is the title track and first single from Jack White's forthcoming sophomore solo album, Lazaretto , due out June 10.
Copyright 2014 ABC News Radio