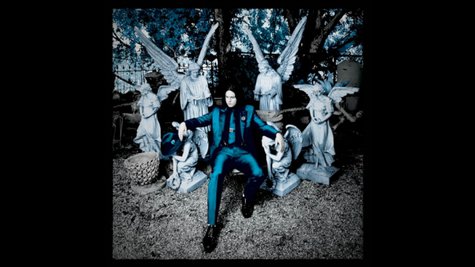 Two years after the release of his #1 debut solo album, Blunderbuss , Jack White will release his second solo effort, Lazaretto , June 10 on Third Man Records/Columbia. However, we'll get a taste of new music with the debut of the first single and title track later this month.
Lazaretto will be available in both a standard edition, and as a special limited edition to members of White's Third Man Records Vault. The "Vault Package" includes blue-and-white vinyl pressing with exclusive album art, plus a fold-out poster featuring a classic National Archives photo that serves as a recurrent image throughout the album art. Bonus extras also include a 40-page hard bound book of lyrics, musical notations, photos and art.
In addition, the Vault Package also includes a 7-inch of two early demos of songs that appear on Lazaretto in their completed form. Both "Alone in My Home" and "Entitlement" are solo recordings by Jack White, done while he was in Mexico.
White's whetting appetites with the release of the instrumental track "High Ball Stepper," which is streaming online now.
You can catch White live, and no doubt hear songs from Lazaretto , when he headlines Bonnaroo and the Governor's Ball festivals this June.
Copyright 2014 ABC News Radio