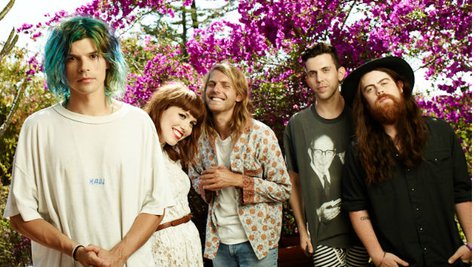 Grouplove celebrated the release of their second album, Spreading Rumours , by recently kicking off their Seesaw Tour. That outing features two-night stands in eleven cities across the country, during which the band will perform an electric set on the first night and an acoustic set on the second. To give fans an idea of what the acoustic shows will be like, the band has posted a video of a stripped-down performance of their single, "Ways to Go," which can be viewed at RollingStone.com .
Frontman/guitarist Christian Zucconi says the band is staging the acoustic shows to give fans a new perspective on their music. "I think being able to arrange 'Ways to Go' into its acoustic counterpart showcases the songwriting even more," he tells Rolling Stone . "That's been the most rewarding aspect of these intimate acoustic shows we're doing on our tour -- letting the fans as well as ourselves experience the songwriting in its most basic and organic form."
Grouplove's Seesaw tour runs through October 2. Visit GrouploveMusic.com for the full itinerary.
Copyright 2013 ABC News Radio