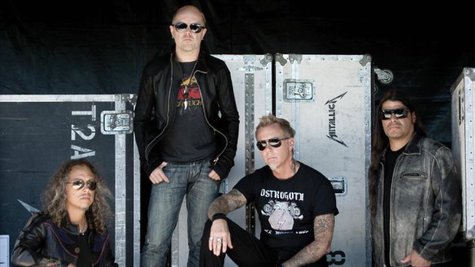 Good news for Metallica fans: the band revealed they'll be headed back into the studio next year to begin recording their follow-up to 2008's Death Magnetic . Bassist Robert Trujillo says while the band began the songwriting process late last year, they plan to lay down some tracks in 2014.
"[We went through] what I call the process of elimination, where we go through all the riffs and ideas we've all had, and we're 80 percent of the way through that," Trujillo tells the U.K. Telegraph . "The plan is next year to move forward and start recording."
Trujillo didn't comment on what the new music will sound like, but he's confident fans will enjoy it. "Metallica always takes on the challenge, and the fans can take what they want from it," he notes. "At the end of the day, we always get them back."
While we'll have to wait a while for new music from Metallica, they're set to release the soundtrack to their upcoming 3D film, Metallica Through the Never , next week. Metallica Through the Never (Music from the Motion Picture) will arrive at the usual outlets on Tuesday. A vinyl edition of the full soundtrack, as well as some limited-edition singles, will also be made available sometime soon.
Metallica Through the Never will be screened in IMAX theaters across North America for a full week starting September 27. After the flick has its run in the IMAX theaters, it'll expand into additional theaters starting October 4.
Copyright 2013 ABC News Radio