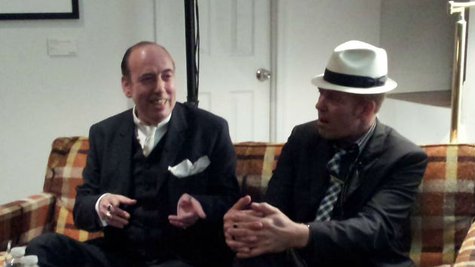 It was just a couple of old punks sitting around talking: Thursday night in New York City, Mick Jones and Paul Simonon of The Clash promoted the massive new Clash box set Sound System with an intimate Q&A session reflecting on their lives and careers.
In the freewheeling discussion, moderated by Rolling Stone's David Fricke , guitarist Jones and bassist Simonon, both looking very dapper in suits and ties -- and in Simonon's case, a jaunty hat -- reminisced about the early days of the band, their musical influences and memorable gigs, and told stories about their interactions with their producers, associates and other musicians.
Sound System features a whopping 12 discs, including the band's original studio albums, plus demos, singles, B-sides and outtakes; promotional videos; concert footage; memorabilia; and much more.
"If anybody wanted to know anything about the Clash, it's all in that boxed set," Simonon noted, "Not necessarily just the music. There's contributions by many people who were involved that have written pieces, and it gives a sort of good description of the time and period, of how life was then." Asked if he felt that Sound System is the "definitive" portrait of the Rock and Roll Hall of Famers, Simonon said "Totally."
When Fricke marveled that this huge collection of material was all recorded in just six short years, the band explained that they simply never stopped -- and they never stopped to think about it, either.
"We were just instinctively very busy people and there was no sort of agenda -- it was very just natural," said Simonon. It was like 'Well we've done a record, let's go on tour.' We didn't have things like holidays. With the Clash, it was sort of a 24-hour lifestyle, where there was no time off. You lived and breathed it, on and off the stage."
Jones added, "When we were doing it, we didn't really think about it at all, we just did it instinctively and carried on. We thought that was normal to just work all the time....it was just 'Bang bang bang, we're gonna do this, we're gonna do that,' and we never thought about it."
Now, years later, Jones says he hopes that Sound System will help the Clash's music "reach new audiences," in addition to appealing to the band's hardcore fans.
"When the dads come see us and they bring their sons, that's a great moment of pride for the dads," he explained. "They feel like, 'See? It wasn't all in vain. It wasn't all rubbish. There was some good that came out of my time,' you know what I mean? And I hope that can continue -- it's a wonderful feeling for the dads."
While justly proud of such classics as London Calling, Simonon says that in retrospect, he's glad the Clash broke up after such a short time.
"In some ways it was probably a good thing that the band, internally, did start [firing] each other," he said Thursday night. "Because I don't think we could've continued, really. Reality was starting to leave us 'cause of the success."
He explained, "There's just a collection of people that suddenly are there to carry your bag and wash your socks and...you feel like you're losing control of yourself, to the point that your feet are starting to leave the ground. One needs to have one's feet on the ground to have a sense of reality, and that was starting to go."

Sound System in in stores now.
Copyright 2013 ABC News Radio