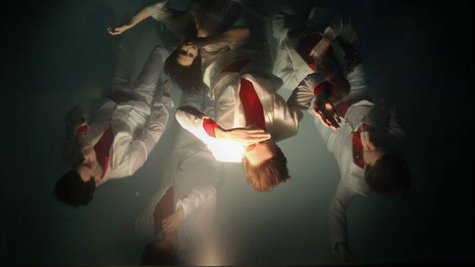 David Bowie may have only contributed backing vocals to Arcade Fire 's single "Reflektor," but if the legendary singer had his way, he would have kept the track for himself. Arcade Fire multi-instrumentalist Richard Reed Parry says the Thin White Duke was so smitten with the single they offered to have him sing on it so he wouldn't steal it.
"He basically threatened us -- he was like, 'If you don't hurry up and mix this song, I might just steal it from you!'," he tells NME . "So we thought, well why don't we go one better, why don't you sing on our version? Thankfully he obliged, and we were really happy about that."
While Reflektor 's title track is a dance number, Parry adds that fans can expect some serious musical experimentation on the group's upcoming double album of the same name. "It's pretty all over the map…and that was the goal," he reveals. "We wanted to go to extremes. Sometimes it's like a bluesy bar band, and others it's more like a disco band in a weird old nightclub from a country nobody's ever heard of."
We can expect to get our hands on Reflektor starting October 29, though it's available for pre-order now via Arcade Fire's official website . If you pre-order the disc you'll get an instant download of the title track, plus "first access" to tickets for the group's upcoming shows.
Copyright 2013 ABC News Radio