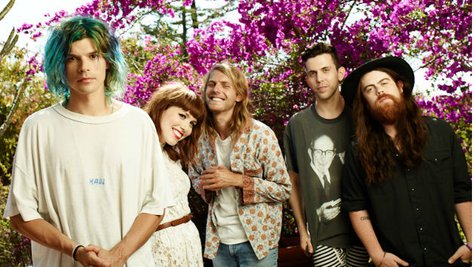 Grouplove 's sophomore album, Spreading Rumours, arrives next Tuesday, and the band has a few things on their calendar to celebrate its release.
The festivities kick off with a three-day art installation of singer/keyboardist Hannah Hooper 's original paintings and other artwork, which will be on display at Monkspace Gallery in Los Angeles, CA, September 17-19. A limited-edition poster will be available at the event, with the proceeds benefiting the Chipotle Cultivate Foundation. The last day of the installation, the band will perform tracks from Spreading Rumours on ABC's Jimmy Kimmel Live .
Shortly after their TV appearance, Grouplove will be invading a number of college campuses as part of the 2013 Campus Consciousness Tour, which was created to help raise awareness about environmental and social issues. That outing kicks off on October 24 at Kent State University in Kent, OH, with The Knocks and Saints of Valory supporting the band on all the newly announced dates.
For more information on the Campus Consciousness Tour, visit CampusConsciousness.org . Here are the dates:
10/24 -- Kent, OH, Kent State University
10/25 -- Clinton, NY, Hamilton College
10/26 -- Fredericksburg, VA, University of Mary Washington
10/29 -- Rochester, NY, Monroe Community College
10/30 -- Columbus, OH, Ohio State University
11/6 -- Worchester, MA, Clark University
11/8 -- Washington, D.C., American University
11/9 -- Ewing, NJ, College of New Jersey
11/15 -- Somerville, MA, Tufts University
11/16 -- Waterville, ME, Colby College
Copyright 2013 ABC News Radio