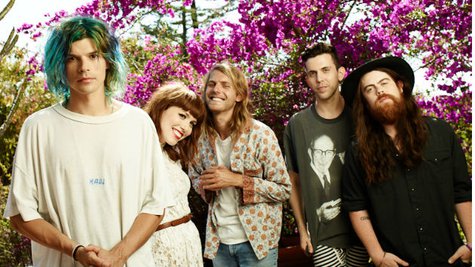 Grouplove has unveiled the next single from their upcoming sophomore album, Spreading Rumours . The group posted a video for the track, titled " Borderlines and Aliens ," on Friday. It features a full-length stream of the cut and a variety of animated clips that were based on original artwork by singer/keyboardist Hannah Hooper .
Spreading Rumours will arrive at all the usual outlets on September 17 and will be available in a variety of formats, including standard and deluxe digital versions, as well as a limited-edition flexi-disc book, which features the tracks on individual vinyl "pages."
Grouplove is celebrating the release of Spreading Rumours with their Seesaw Tour, which features two-night stands in eleven cities across the country during which the band will perform an electric set on the first night and an acoustic set on the second. That outing begins on Monday night at The Crocodile in Seattle, WA. Visit GrouploveMusic.com for the full itinerary.
Copyright 2013 ABC News Radio