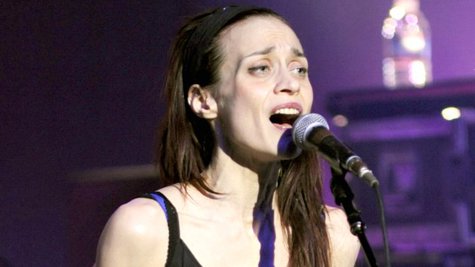 Fiona Apple isn't happy with the way that the media covered her behavior during her performance at a Louis Vuitton event in Tokyo last Thursday. While a number of journalists reported that Apple yelled obscenities at the crowd and behaved oddly in general during her performance, they also noted that the singer stormed off the stage before she finished her set, which Apple says is untrue.
"If it wouldn't be too much trouble, if you could tweet to the twits who call themselves journalists…that I FINISHED MY SET!!!," she said in a statement sent to The Roots ' Questlove and posted on Okayplayer.com . "I did my job, and they should do theirs too."
Women's Wear Daily reported that a few songs into her set, Apple "climbed on top of her grand piano," asked for silence, and then "challenged everyone to be silent for the duration of a tone she created by striking a small metal bell." When the crowd didn't quiet down, Apple let loose a stream of profanity, telling the audience to "shut the f**k up."
Apple explains her outbursts were justified because she felt the crowd was being disrespectful to her. "[The journalists] all miss the fact that there is a difference between the back-of-the-room-chatter that is simply annoying, and the operatic drunken blather, or the heckling that is really just INTERRUPTING that makes it impossible for us to do our jobs," she writes. "I hope your readers are already hip to the fact that they are consistently lied to… no apologies."
Copyright 2013 ABC News Radio