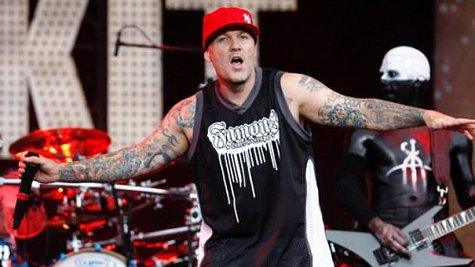 Limp Bizkit frontman Fred Durst is taking another shot at creating a television series. TVGuide.com reports the singer has just inked a deal with the CW network to develop a one-hour drama based on his life.
Titled The Noise , the program follows the story of "a young artist in the 1990s who escapes a tumultuous home life and forms a wildly popular band with a unique sound." While it's unclear if Durst will do any acting on the program, he is listed as a co-executive producer on the show's script.
The Noise is the second television project Durst has worked on in recent years. Back in 2011, the singer developed and starred in a sitcom, Douchebag , a half-hour comedy project centering on a rock legend who tries to balance his high-profile lifestyle with raising a family. While snippets of the program surfaced online, the show never made it onto the air.
Durst has acquired a number of film and TV credits over the last decade. He directed two feature films, 2007's The Education of Charlie Banks and 2008's The Longshots , and made appearances on Fox's House and the 2005 NBC miniseries Revelations .
Copyright 2013 ABC News Radio