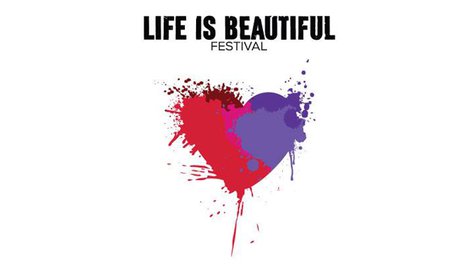 Downtown Las Vegas, the recently-established hipster hangout area that is located far from The Strip, was blocked off to the public Saturday and Sunday to host a combination music/food/art festival called Life Is Beautiful.
Kanye West reportedly toured the festival grounds with Zappos.com billionaire Tony Hseih on the opening night.
Vegas hometown heroes Imagine Dragons were joined on stage by members of Cirque du Soleil . The band also joined celebrity chef Jet Tila in a cooking demo.
Saturday headliner Kings of Leon closed out the festival's first night with a performance that included a three-song encore.
According to photographer Eric Kabik , Living Colour was the first band to pay tribute to the late Lou Reed by briefly playing a riff from "Sweet Jane" Sunday at the beginning of their set.
Other performers included Beck , Vampire Weekend , Purity Ring , Todd Rundgren , Empire Of The Sun , Childish Gambino , Passion Pit and Jurassic 5 . Another local band, The Killers , headlined the final evening.
Copyright 2013 ABC News Radio