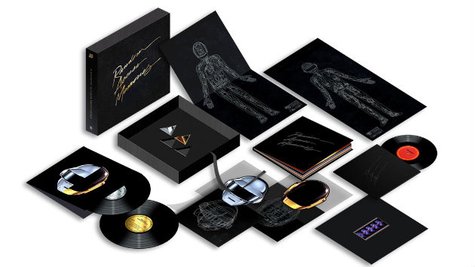 Daft Punk has just announced they'll be releasing a deluxe box set of their latest release, Random Access Memories , and it's filled with a number of collectibles.
The forthcoming package includes a special edition double-LP vinyl copy of Random Access Memories and a 10" vinyl record containing an extended interview with famed Italian dance-music producer Giorgio Moroder taken from the recording sessions for the single "Giorgio by Moroder." The package also includes two sets of robot design schematics, a 70-mm motion picture film strip containing five sequential frames from the original production dailies of the "Lose Yourself to Dance" video and a 56-page photo book of images from the Random Access Memories ' recording sessions and film shoots.
In addition to those goodies, the Random Access Memories deluxe box set includes a pair of gold and silver-plated USB drives containing high-resolution digital audio files of the 13 original tracks on RAM , the Japanese bonus track "Horizon," Daft Punk's "Get Lucky" remix, the video for "Lose Yourself to Dance" and a number of promotional videos the band created for the album.
The deluxe box set will run you $275 and is available for pre-order now at MyPlayDirect.com . While an official release date for the set has yet to be announced, the package will ship sometime in early December.
Copyright 2013 ABC News Radio