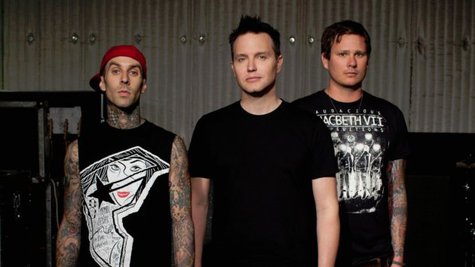 Blink-182 recently announced that they'll be celebrating the 10th anniversary of their 2003 self-titled album by performing the record in its entirety during both nights of their residency at the Hollywood Palladium on November 6 and 7 in Los Angeles, California. In an email to MTV News , bassist Mark Hoppus reveals that the idea to perform the special concerts came from a devoted fan who tweeted the group to remind them of the album's anniversary.
"Someone on Twitter @-replied to me, pointing out that the 10-year anniversary of the album was approaching," writes Hoppus. "So I emailed [drummer] Travis [ Barker ] and [guitarist] Tom [ DeLonge ], suggesting that we could perform the whole album live. I've been re-learning the bass parts and rehearsing alone in my house here in London…some of these songs we've never performed live."
Hoppus adds that the album was a major milestone for band, mostly because it showcased how their music had matured. "I think it changed the way people thought of us, too," he explains. We were no longer the silly skate punk kids from California. Well, we were -- and we still are -- but from then on there was something more."
Tickets for the upcoming concerts are available now at Ticketmaster.com. VIP packages are also available, which include access to exclusive merchandise and a Q&A session with the band.
Copyright 2013 ABC News Radio