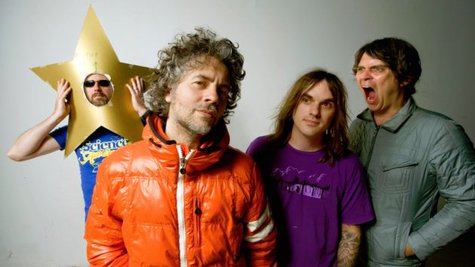 The Flaming Lips have been added to lineup for My Morning Jacket 's first-ever destination event, One Big Holiday, which takes place at the Hard Rock Hotel Riviera Maya January 26-30, 2014. Fans who sign up for the event will get to attend a show from The Lips in addition to three concerts and a dance party hosted by MMJ.
"Being with [MMJ frontman] Jim James is like hanging with an outlaw who just broke out of jail but this outlaw is also Jesus Christ at the last supper...and there is music everywhere being made by magic birds that leave diamonds in your drinks," says Lips singer Wayne Coyne in a statement.
Other artists that have recently signed up to perform at the event include the Preservation Hall Jazz Band and Mariachi El Bronx . A special DJ set by Thievery Corporation 's Rob Garza will also be included in the musical extravaganza.
Ticket packages for One Big Holiday start at $1,249 per person, with only 2,500 slots up for sale. Visit MMJOneBigHoliday.com for more information.
Copyright 2013 ABC News Radio