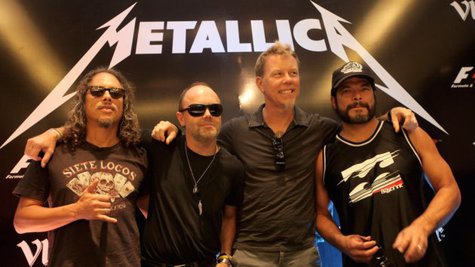 Reports have circulated recently suggesting that Metallica will be participating in a sweepstakes sponsored by Coca-Cola Zero whose grand prize is the opportunity to attend a concert from the band in Antarctica. Now, the guys have issued a statement confirming the contest is legit, and they'll be headed to the Earth's southernmost continent in early December.
"We are set travel to Antarctica, the only continent that Metallica has never played on until now," writes the group in a joint statement . "We are partnering with Coca-Cola Zero for one of the most unique and special concert events in our career as we'll be performing near the heliport of the Argentine Antarctic Base Carlini on Sunday, December 8, 2013."
The band adds contest winners will arrive at the show via an Antarctic cruise that sails December 3-10 and will stop at Carlini, where they will get to experience a unique concert. "We'll be playing inside a dome on the base and in another twist, the show will be transmitted to the audience via headphones with no amplification…a real first for us! The show will also be streamed live for our friends in those Latin American countries who cannot join us at the base and filmed to share with everyone at a later date."
The contest -- which is only open to the Metallica's Latin American fans in Argentina, Chile, Colombia, Costa Rica and Mexico -- begins on Monday. In order to enter, you'll need to tweet a creative message to the Coca-Cola Zero Twitter account, @CocaColaZeroAr, which demonstrates what you would be willing to do to attend the show, along with the hashtag #CocaColaZeroAntartica.
Copyright 2013 ABC News Radio