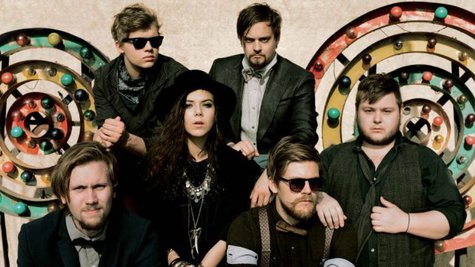 Last month we learned that Of Monsters and Men are among the big names contributing new songs to the soundtrack of the highly anticipated Hunger Games sequel, Catching Fire . Now, the group is offering fans the chance to hear a one-and-a-half-minute snippet of the new cut they made especially for the film, "Silhouettes," streaming at MTV.com .
Singer/guitarist Ragnar þórhallsson says "Silhouettes" wasn't inspired by the story in film, but by the isolation they felt on their recent world tour promoting their debut album, 2011's My Head is an Animal . "We had been traveling for a long time and away from our family and doing something we had never done before, so that was kind of how we related to the story," he tells MTV News. "So this is all based on our experience."
The Catching Fire soundtrack arrives in stores November 19, with songs from Coldplay , Imagine Dragons , The Lumineers , The National and Lorde .
Copyright 2013 ABC News Radio