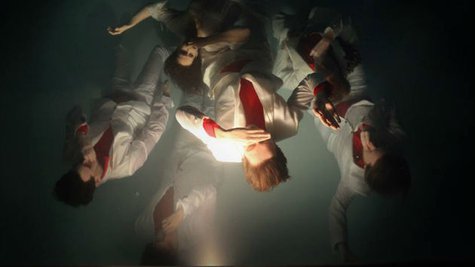 Arcade Fire takes us to the movies in the new video for "Afterlife," a cut from the group's upcoming album, Reflektor .
The six-minute clip features the song's lyrics flashing across the screen accompanied by footage from Black Orpheus , the 1959 Portuguese-language film of which frontman Win Butler is very fond.
"The film Black Orpheus is one of my favorite films of all time, which is set in Carnival in Brazil," he tells Rolling Stone . "The Orpheus myth is the original love triangle, Romeo-and-Juliet kind of story."
Butler adds the spirit of Carnival helped to influence the new tracks on Reflektor , and attending the celebration in Haiti was a powerful experience for him. "[At Carnival] there's sex and death and people dressed up as slaves with black motor oil all over their faces and chains, and there's these little kids in puffer fish outfits or dressed like Coke bottles," he explains. "There's big fire-breathing dragons that shoot real fire at the crowd."
Reflektor will arrive in stores on October 29.
Copyright 2013 ABC News Radio