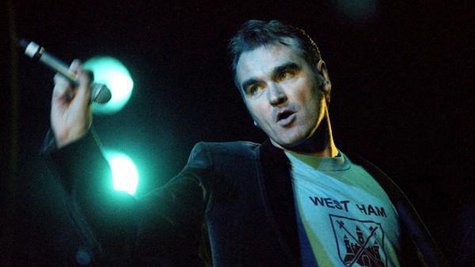 Morrissey 's new memoir, Autobiography , has arrived on bookshelves overseas, and its pages are filled with revelations about the singer's private life. According to The Daily Beast , one the juiciest pieces in the book is where the ex- Smiths frontman discusses his sexuality.
Morrissey reveals his first crush was the drummer of the 1970's cross-dressing punk band, the New York Dolls . " Jerry Nolan on the front of the Dolls debut album is the first woman I ever fell in love with," he writes. The singer adds that during his mid-30s, he was involved in a two-year "whirlwind" relationship with a man named Jake Owen Walters . "For the first time in my life the eternal 'I' becomes 'we,'" he reveals. "Every minute has the high drama of first love, only far more exhilarating. His leap towards me is as uncharted as mine to him. There will be no secrets of flesh or fantasy; he is me and I am him."
The singer addresses a number of other topics in the book, including his bout with depression that often led to thoughts of suicide. "There comes a point when where the suicidalist must shut it down if only in order to save face," he writes. "I could only tolerate an afternoon if I took a triple amount of the stated dose of Valium prescribed by my GP (who would soon take his own life)."
Autobiography is currently available in the U.K. and Europe. A North American release date for the memoir has yet to be announced.
Copyright 2013 ABC News Radio