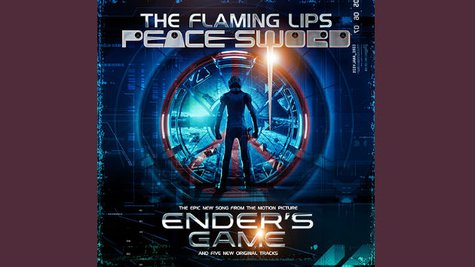 If you thought the only way to get your hands on The Flaming Lips ' new EP was to duke it out with other vinyl aficionados on Black Friday Record Store Day, think again.
The band has announced they'll be offering a digital release of Peace Sword , the EP based on the 1985 science-fiction novel Ender's Game , on October 29. The release contains six tracks, including "Peace Sword (Open Your Heart)," which is featured in the soundtrack of the film adaptation of Ender's Game . Standard CD copies and a limited-edition 12" vinyl release of Peace Sword will be available on November 29.
The Ender's Game film, which stars Harrison Ford , Ben Kingsley and Asa Butterfield , will arrive in theaters on November 1.
Here is the track list:
"Peace Sword (Open Your Heart)"
"If They Move, Shoot 'Em"
"Is the Black at the End Good"
"Think Like a Machine, Not a Boy"
"Wolf Children"
"Assassin Beetle - The Dream Is Ending"
Copyright 2013 ABC News Radio