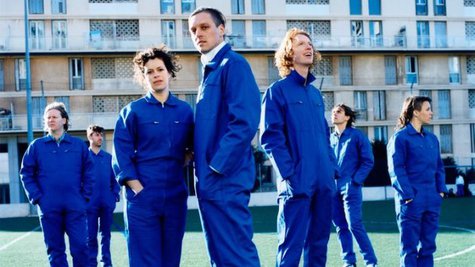 Arcade Fire doesn't want us to forget they've got a new album headed our way later this month. The band took to their Facebook page on Tuesday to promote their fourth studio album, Reflektor , by unveiling a trailer for their single "Afterlife" and posting lyrics to some of the new tracks.
The two-minute teaser clip features a snippet of a distorted version of "Afterlife," along with footage of a celebration in Haiti, which is where the band recorded Reflektor . The group further previewed the release by posting the lyrics to four of the new cuts: "We Exist," "Here Comes the Night Time," "Normal Person," and "Afterlife," all of which were performed during the group's NBC special following their recent performance on Saturday Night Live .
You can expect to get your hands on Reflektor starting October 29, although it's available for pre-order now via Arcade Fire's official website . The band will celebrate the release with a number of live performances, including two shows in Brooklyn on October 18 and 19, an appearance on Comedy Central's The Colbert Report on October 21, a performance at Neil Young 's Bridge School Benefit Concert on October 26 and a concert for the social media-driven concert series The Music Experiment 2.0 on the day Reflektor is released.
Copyright 2013 ABC News Radio