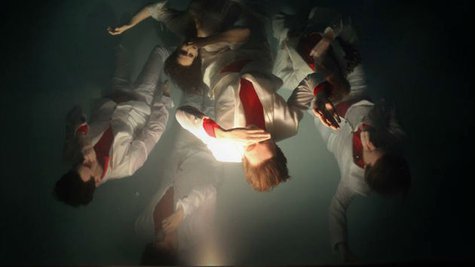 You can now add Arcade Fire to the list of artists that will be performing at the 27th annual edition of Neil Young 's Bridge School Benefit Concert . Event producers have announced the group will hit the stage during the first night of the musical extravaganza, which takes place October 26 and 27 at the Shoreline Amphitheatre in Mountain View, California.
Other rock acts set to perform at the all-acoustic event include Queens of the Stone Age , My Morning Jacket , fun. and former Rilo Kiley vocalist Jenny Lewis . The Killers were also supposed to perform at the event, but recently pulled out due to the absence of bassist Mark Stoermer , who recently backed out of the group's tour of Asia.
In other Arcade Fire news, the band has scheduled another concert where they'll be performing as The Reflektors , the moniker under which Arcade Fire performed for a number of shows in Montreal last month. That show will take place on October 24 at Little Haiti Cultural Center in Miami, Florida. Tickets for the concert will go on sale on Wednesday at 10 a.m. ET via Flavorus.com . The show is part of Big Night In Little Haiti, a free monthly night of Haitian music, art and culture sponsored by The Rhythm Foundation .
The band has also announced they'll celebrate the release of their new album, Reflektor , by performing a concert for the social media-driven concert series, The Music Experiment 2.0 . On October 29, the day Reflektor hits stores, Arcade Fire will play a special show at an as-yet-unannounced outdoor location in Los Angeles, California. If you want to win tickets to attend the concert, you'll need to visit MusicExperiment.com and participate in a variety of social media challenges. If you miss out on scoring tickets, you'll be able to catch the performance when it streams live at MusicExperiment.com and via The Music Experiment Windows App.
Copyright 2013 ABC News Radio