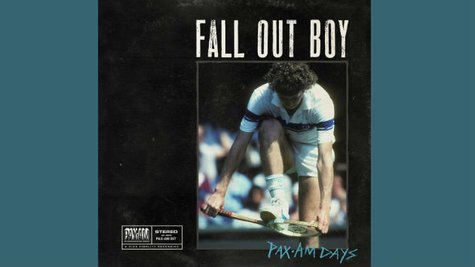 Fall Out Boy 's new EP, PAX*AM DAYS , won't arrive in stores until next Tuesday, but the band is giving us something to tide us over until then. The group is offering a stream of every track from the upcoming release in a playlist on their YouTube channel .
PAX*AM DAYS features eight new tracks, almost all of which are under two minutes long. The collection, produced by Ryan Adams at his PAX AM Studio in Hollywood, was inspired by a variety 80s-punk tracks.
Explaining why they made the album, Fall Out Boy states on their Facebook page , "Sometimes to get where you are, you need to get back to why you even began in the first place: making noise for no reason, laughing at jokes…just the camaraderie of fast, loud songs. This is the closest to the earliest inception of what led us to Fall Out Boy: this is the alpha to the omega that is Save Rock and Roll ."
PAX*AM DAYS will be available both a digital release and as an add-on to a Limited Edition version of Save Rock and Roll , both of which are coming out October 15. November 29 will bring a vinyl version of the set for Black Friday Record Store Day.
Here is the PAX*AM DAYS EP track list:
"We Were Doomed from the Start"
"Art of Keeping Up Disapperances"
"Hot to the Touch, Cold on the Inside"
"Love, Sex, Death"
"Eternal Summer"
"Demigods"
"American Made"
"Caffeine Cold"
Copyright 2013 ABC News Radio