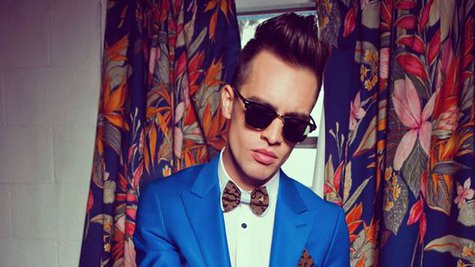 With their new album Too Weird to Live, Too Rich to Die now in stores, Panic! at the Disco has announced they'll be hitting the road to promote it in 2014.
The upcoming North American trek kicks off on January 14 at Showbox SoDo in Seattle, WA, and will make stops in Denver, St. Louis, Boston, New York and Miami, among other cities.
In other Panic! news, the group has posted a video for " Girls/Girls/Boys ," the next single from Too Weird to Live, Too Rich to Die . The three-minute clip, which was inspired by D'Angelo 's video for " Untitled (How Does It Feel) ," features frontman Brendon Urie singing the song while nude.
"Girls/Girls/Boys is such a racy song that it immediately made me think of one of the sexiest videos of all time, which also happens to be one of my favorites," says the singer in a statement. "Doing an homage to D'Angelo's classic video seemed like a perfect fit."
Information on a ticket pre-sale for Panic! at the Disco's upcoming tour will posted to the group's website on Monday, October 14. General ticket sales for the gigs will begin on October 18.
Here are the tour dates:
1/14 -- Seattle, WA, Showbox SoDo
1/15 -- Vancouver, BC, Commodore
1/17 -- Salt Lake City, UT, In The Venue
1/18 -- Denver, CO, Ogden
1/19 -- Kansas City, MO, Uptown
1/21 -- Minneapolis, MN, Skyway Theatre
1/22 -- St. Louis, MO, Pageant
1/24 -- Columbus, OH, LC Pavilion
1/25 -- Cincinnati, OH, Bogart's
1/26 -- Cleveland, OH, House of Blues
1/28 -- Washington, D.C., The Fillmore
1/29 -- Wallingford, CT, The Dome
1/30 -- Boston, MA, House of Blues
1/31 -- Montreal, QC, Metropolis Sound
2/1 -- Toronto, ON, Sound Academy
2/4 -- New York, NY, Roseland Ballroom
2/5 -- Philadelphia, PA, Electric Factory
2/7 -- Atlanta, GA, The Tabernacle
2/8 -- Miami, FL, The Fillmore
2/9 -- Orlando, FL, House of Blues
2/11 -- Houston, TX, House of Blues
2/14 -- Phoenix, AZ, Marquee
2/15 -- San Francisco, CA, Fox Theatre
Copyright 2013 ABC News Radio