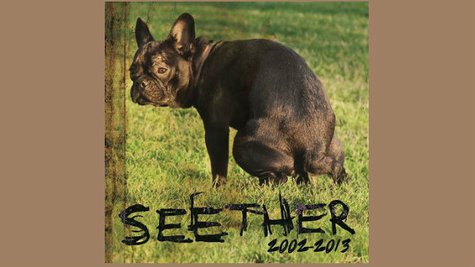 Seether 's collection of greatest hits and rare B-sides, Seether 2002-2013 , won't hit stores until October 29, but you can hear a little preview of it now. The group has just posted a stream of " Safe to Say I've Had Enough ," one of three brand-new tracks included in the compilation.
Seether 2002-2013 will arrive at all the usual outlets on October 29. The set boasts 27 tracks spread out over two discs, and features a number of the band's biggest hits, including "Remedy," "Fake It" and "Country Song." The record also includes a cover of Veruca Salt 's 1994 hit single, "Seether," which is where the group gets their name.
"13 years ago when a demo of 'Needles' came roaring through our speakers and tearing down our hallways, we knew greatness was at our fingertips," said president and CEO of Wind-up Records Ed Vetri in a statement. "After an amazing young career featuring 11 number-one songs, millions of albums sold, Seether is just hitting their stride and this Greatest Hits package only represents their work so far."
Copyright 2013 ABC News Radio