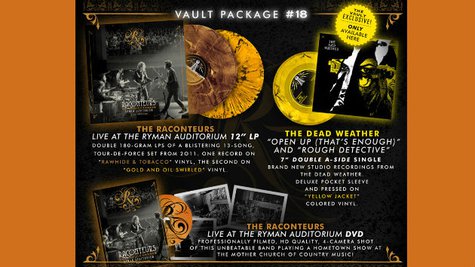 Here are two big reasons to become a member of Jack White 's Third Man Records subscription series, The Vault. The 18th installment of the series will include an album of previously-unreleased live recordings from The Raconteurs , and new studio cuts from The Dead Weather .
The package includes a double-disc vinyl album that documents The Raconteurs concert at the Ryman Auditorium in Nashville, TN, on September 15, 2011. Titled Live at the Ryman Auditorium , the 13-song set includes performances of hits "Steady, As She Goes," and "Salute Your Solution." In addition, a DVD of the concert will be included in the package.
Vault subscribers will also receive an exclusive 7-inch vinyl record featuring two brand-new songs by The Dead Weather: "Open Up (That's Enough)" and "Rough Detective." The tracks, along with a number of other new Dead Weather songs, will be available digitally in two-song sets over the next year. The recently-reunited band is expected to drop a full-length studio album sometime in 2015.
Vault package #18 will be available to all subscribing members until October 31. Here's the track list for Live at the Ryman Auditorium :
"Consoler of the Lonely"
"Hands"
"Level"
"Old Enough"
"Top Yourself"
"Many Shades of Black"
"The Switch and the Spur"
"Intimate Secretary"
"Broken Boy Soldier"
"Blue Veins"
"Salute Your Solution"
"Steady, As She Goes"
"Carolina Drama"
Copyright 2013 ABC News Radio