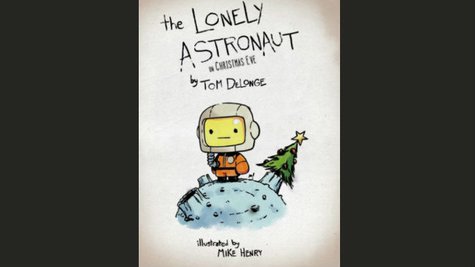 You wouldn't normally associate Angels and Airwaves / Blink-182 with children's literature, but Tom DeLonge will be releasing something special for the kiddies this Christmas.
The singer/guitarist has teamed up with artist Mike Henry to deliver his first children's book, The Lonely Astronaut on Christmas Eve . As the title suggests, the book is about "a rocketeer alone on the moon on a cold Christmas night, and the gift he receives from a few unexpected (and extraterrestrial) friends."
The first edition of the book will be available as part of a limited-edition Lonely Astronaut Christmas Package, which will be available starting November 25 on AngelsAndAirwaves.com. In addition to a hardcover copy of the book, the package includes a certificate of authenticity signed by DeLonge, a digital version of the book for iPad, Nook or Kindle, a Lonely Astronaut clear acrylic etched ornament, and a limited-edition t-shirt.
DeLonge is also putting a special one-of-a-kind package up for a charity auction, the proceeds from which will benefit San Diego's Rady Children's Hospital. That set includes the complete 22 pages of signed original art from the book, a guitar signed by DeLonge, and a meet-and-greet with the guitarist. You can bid on that package at CharityBuzz.com starting November 25.
Copyright 2013 ABC News Radio