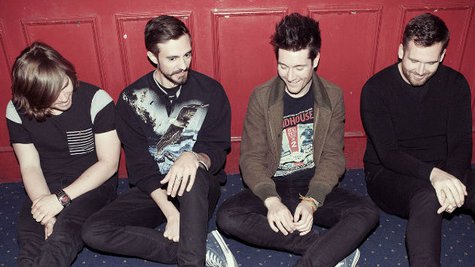 Bastille showcases their skills with some legendary hardware in the new video for "Oblivion," a cut from their recently-released album, Bad Blood .
The three-minute black-and-white clip, which you can see now at RollingStone.com , features the guys performing the track at the Capitol Records building in Los Angeles, California, with frontman Dan Smith playing Nat King Cole 's old piano and singing into a microphone that was used by Frank Sinatra . The video also features the band being accompanied by a string section, which Smith says was especially exciting for him.
"Because we made our album in our friend's tiny little studio in London we haven't had much exposure to recording studios, so it was amazing to even get to spend time at Capitol Studios," Smith tells the publication. "I'm completely obsessed with strings in music, from the Beatles' arrangements through to all the film scores that I love, so to be able to play live with such an awesome strings section was unforgettable for us."
You'll get the chance to hear the song performed live, sans the string section, when the band hits the road to promote Bad Blood next year. So far, the group has only announced three dates in the U.S.: January 19 at the Royal Oak Music Theatre in Royal Oak, MI; January 20 at the Royale in Boston, MA; and January 22 at Webster Hall in New York, NY.
If you can't wait that long to see them, Bastille will appear on The Ellen DeGeneres Show Wednesday, December 4.
Copyright 2013 ABC News Radio