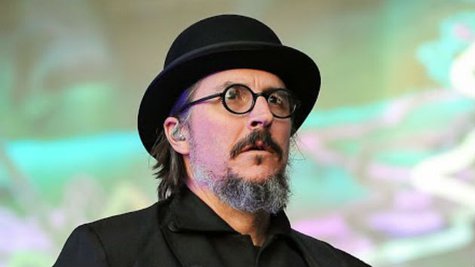 Les Claypool is bringing his brand of bass-slapping magic to a new side project, Les Claypool's Duo de Twang . The new band, which features Claypool and his longtime friend and guitarist, Bryan Kehoe , is set to release their debut album next year.
Titled Four Foot Shack , the release includes one new track, along with a variety of covers from his own catalog and cuts from Alice in Chains , The Bee Gees , and late country singer/songwriter Jerry Reed .
Claypool says he wanted the album to have an organic feel, so he didn't do much fiddling with the tracks after laying them down in the studio. "It's as dry and as close to just sitting in front of a microphone as you can get," he tells Rolling Stone . "Every now and again I have to remind myself, when all is said and done, the thing I do best -- besides being a dad -- the thing that people want to see me do, is stand up there and wiggle my fingers on that four-string piece of furniture."
Four Foot Shack will hit stores on February 4. To give you an idea of what you can expect from the release, Duo de Twang is offering a stream of their cover of Primus' hit "Jerry Was a Race Car Driver" at RollingStone.com.
Here's the Four Foot Shack track list:
"Four Foot Shack" (Originally performed by Les Claypool's Duo de Twang)
"Wynona's Big Brown Beaver" (Originally performed by Primus)
"Amos Moses" (Originally performed by Jerry Reed)
"Red State Girl" (Originally performed by Les Claypool)
"The Bridge Came Tumblin' Down" (Originally performed by Stompin' Tom Connors)
"Boonville Stomp" (Originally performed by Les Claypool)
"Stayin' Alive" (Originally performed by Bee Gees)
"Rumble of the Diesel" (Originally performed by Les Claypool)
"Pipe Line" (Originally performed by The Chantays)
"Buzzards of Greenhill" (Originally performed by Les Claypool's Fearless Flying Frog Brigade)
"Hendershot" (Originally performed by Les Claypool's Fearless Flying Frog Brigade)
"Man in the Box" (Originally performed by Alice in Chains)
"D's Diner" (Originally performed by Les Claypool's Fearless Flying Frog Brigade)
"Battle of New Orleans" (Originally performed by Johnny Horton)
"Jerry Was a Race Car Driver" (Originally performed by Primus)

Copyright 2013 ABC News Radio