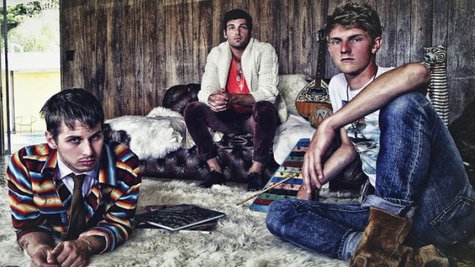 Foster the People will be trying something different for their sophomore album. While 2011's Torches relied heavily on electronic influences, frontman Mark Foster says their next release will feature more "organic" sounds.
"It's guitar-driven," he tells Rolling Stone . "I haven't played this much guitar in a long time, so it's going to be really fun to play live, because it's much more organic and more in the vein of the Pixies and Clash and stuff."
While he's loving the new album, Foster adds he's not sure how fans will respond to the new cuts. "It's not the record that people are gonna expect us to release second," he explains. "It's definitely an evolution for us, and it's a more polarizing record for us, so I'm excited to see how it's received, for better or worse."
Foster also shared a number of song titles that are expected to be part of the upcoming release, including "Beginners Guide to Destroying the Moon," "Are You What You Wanna Be" and "Nevermind," which he feels is "the heart" of the album.
A firm release date for Foster the People's second studio album has yet to be released, but the singer notes we can expect it to arrive in stores in the beginning of 2014.
Copyright 2013 ABC News Radio