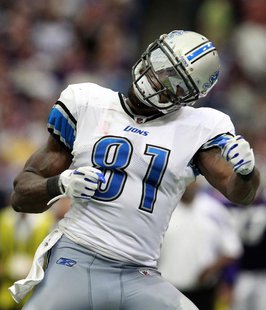 UNDATED (WHTC) -- The Lions are on the road today as they play the Steelers in Pittsburgh. They are coming off a 21-19 win in Chicago last Sunday that has them in first place in the NFC North at 6-and-3. The Steelers are 3-and-6. Game coverage begins at noon on 1450 WHTC.
The Chicago Bears host the defending Super Bowl champion Baltimore Ravens this afternoon. The Bears will be without quarterback Jay Cutler.
The second game of our NFL double header is this evening has the 9-0 Kansas City Chiefs visiting the 8-1 Denver Broncos. Coverage on Holland's Hometown Station beings at 7:30 P.M.
***
The Red Wings losing streak continues with a loss Saturday night to the New York Islanders, 5-4. Pavel Datsyuk had two goals while Darren Helm had a goal and assist for Detroit. Johan Franzen also lit the lamp while Jonas Gustavsson made 37 saves in defeat. The Red Wings try for a win against Nashville Tuesday evening. Catch the game on 1450 WHTC at 7:10 P.M.
The Predators pummeled the Blackhawks 7-2 at Bridgestone Arena on Saturday night. Patrick Kane and Brandon Pirri both scored in the setback. The Blackhawks skate tonight in San Jose.
***
Detroit ended a four-game slide with a win over the Sacramento Kings, 97-90 on Friday night. Their California road trop continues this evening against the Los Angeles Lakers
Luol Deng scored a game-high 23 points to guide the Bulls to a 110-94 win Saturday night over the previously unbeaten Pacers at the United Center. Derrick Rose chipped in with 20 points for Chicago, which improved to 5-and-3 and 4-and-0 at home. The Charlotte Bobcats are the Bulls opponent on Monday night at the United Center.
***
The Grand Rapids Griffins lost to the Chicago Wolves Saturday night, 4-3. The Griffins 10-4-1-1 overall record has them still on top of the Midwest Division in front of a three-way tie for second place. The Griffins come back home for a Wednesday night game against the Admirals at 7 p.m. at Van Andel Arena.
***
Hope College advanced to the NCAA Division III Volleyball Quarterfinals by winning at Elmhurst on Saturday night in four sets (24-26, 25-20, 25-14, 25-15). The Flying Dutch (32-2) now play at home in DeVos Fieldhouse next Thursday against Wisconsin-Stevens Point (33-4)
***
Hope's run in the NCAA Division III men's soccer tournament ended on Saturday night with a 2-1 overtime loss at Wartburg of Iowa. The Flying Dutchmen end the season 16-3-2.
***
Zeeland West outscored Mount Pleasant on Saturday, 62-27, to win a MHSAA Division 3 Regional football tournament title. The Dux (11-1) face Stevensville Lakeshore, a 34-7 winner over visiting Byron Center on Saturday, in a state semifinal next Saturday, with the site and time to be determined on Monday. Coverage of that game will be on 1450 WHTC and whtc.com
***
Albion topped Hope College on Saturday, 34-31. The win gave the Britons (8-2, 6-0 MIAA) the outright MIAA title and automatic NCAA Division III tournament berth, while ending Hope's season at 7-3 (4-2 MIAA).
Heath Parling threw for 274 yards and a touchdown, leading Grand Valley State over visiting Saginaw Valley State on Saturday, 49-34. The win gives the Lakers (9-2, 7-2 GLIAC) a chance to secure a NCAA Division II tournament berth when bids are announced on today.
In state major college football on Saturday: Michigan State won at Nebraska, 41-28; Michigan won in triple overtime at Northwestern, 27-19; and Central Michigan won at Western Michigan, 27-22.
***
Women's college basketball: The nationally ranked Flying Dutch scored 71 first-half points and defeated host North Central (Ill.) 126-56 to surpass their previous best of 118 points from a 2005 win. Junior forward Rebekah Llorens of Grayslake, Ill., netted a game-high 23 points en route to Tournament Most Valuable Player honors for Hope. Hope returns to action on Tuesday, Nov. 19, when it tips off Michigan Intercollegiate Athletic Association (MIAA) play at Calvin.
***
Men's college basketball: Central Michigan lost to Pepperdine, 88-71 at McGuirk Arena. Chris Fowler netted 23 points, Austin Keel poured in 13 points and Blake Hibbitts added 12 points in the loss on Saturday night.
The Number 7 Michigan Wolverines take on Iowa State this afternoon. Western Michigan is home to Alabama A & M and Oakland University is in Spokane, WA to take on Number 15 Gonzaga in the Mainland Maui Invitational this evening.
***
Matt Kenseth gained ground in his battle with Jimmie Johnson for the Sprint Cup Series championship by winning the pole for today's season-finale at Homestead-Miami Speedway. Kenseth, who is attempting to win his second title in NASCAR's premier series, turned a lap at 177.667 mph during Friday's qualifying for his third pole of the season and the 11th of his career.