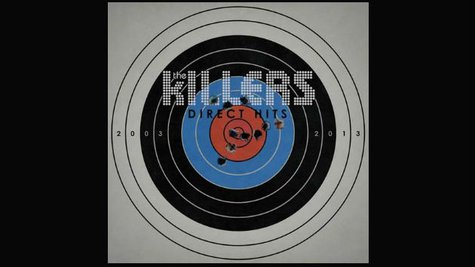 The Killers ' Direct Hits arrived in stores on Tuesday, but if the band had its way, the guys would have waited a lot longer before releasing a greatest hits compilation. Drummer Ronnie Vannucci says the only reason the band issued the album was because of a contract obligation to their record label.
"We'd wait another ten years if it was up to us, but it's a contractual thing," he tells U.K. newspaper the Daily Star . "We can fill a CD so it makes good business sense at this time of year. However, it's not like we're so pleased with ourselves we want to put it out. It feels like a douchie move."
While the band is currently on hiatus, Vannucci adds he expects the guys will reunite once everyone has had a chance to rest and pursue other projects. "I'm looking forward to coming back when we're ready," he explains. "It's a very strange existence, a huge juggling act to navigate this rock and roll life. Bands don't usually make it this long -- if you get past ten years, you're bionic."
Direct Hits boasts 15 tracks and features a number of the band's biggest singles, including "Mr. Brightside," "Somebody Told Me," "All These Things I've Done" and "Human." The release also includes brand-new tracks "Just Another Girl" and "Shot at the Night," the latter of which was recorded with M83 's Anthony Gonzales .
Copyright 2013 ABC News Radio