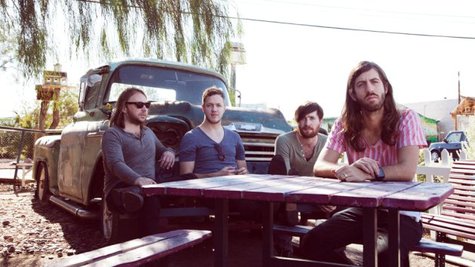 Imagine Dragons explores an old conspiracy theory in the new video for "On Top of the World," the latest single from the band's debut album, Night Visions .
In the four-minute clip , the band portrays a group of eccentric astronauts who fake the first manned moon landing in 1969. The guys kiss their wives and families goodbye, then head to a sound stage where they film their supposed journey into space surrounded by a film crew and President Richard Nixon . The broadcast hits a snag when a group of female fans storm the sound stage to watch the guys perform "On Top of the World" on the moon, but since everyone in enjoying the performance, no one seems to care the fact their trip into space was a hoax.
"We had a good time shooting this video," says the group in a joint statement. "It was inspired by some of our favorite movies, bands, and directors. We've always been into conspiracy theories, so we thought we'd create one of our own."
Imagine Dragons is currently trekking across the U.S. promoting Night Visions . Visit ImagineDragonsMusic.com to view the full itinerary.
Copyright 2013 ABC News Radio