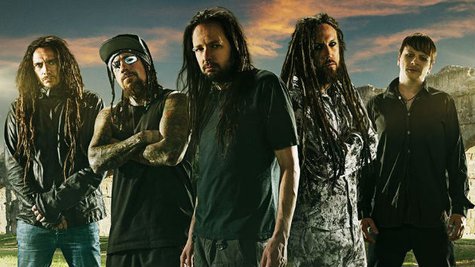 Korn bassist Reginald Arvizu , a.k.a. Fieldy , says the recording sessions for The Paradigm Shift were so fruitful they produced enough songs for a double album.
"There's a lot that didn't make the cut," he tells ABC News Radio. "We've never done it like that where we recorded about 25 songs. We just kept writing and writing because we wanted to be able to pick from all that. I was trying to push the guys to do 50 songs. You're gonna get the most banging songs ever if you have 50 to pick from. But it didn't happen."
Fieldy adds Korn's creative juices got flowing from the first minute the band entered the studio, thanks to the return of guitarist Brian "Head" Welch , who had quit the group back in 2005. "We had nothing written, and I remember Head coming in and he sat down and he goes, 'Hey, I have to bring something to the table,'" he explains. "He had…some banging riffs already ready, so he played them and we would listen and then [guitarist James ] ' Munky' [ Shaffer ] would add to it, because they would always build each other up and, and make it better and that's really what happened, is they started riffing out."
Korn is currently out on the road with their old friend Rob Zombie for their Night of the Living Dreads Tour. This week, the North American trek hits the Chesapeake Energy Arena in Oklahoma City, OK, on Friday; the Kay Yeager Coliseum in Wichita Falls, TX, on Saturday; and the Concrete Street Amphitheatre in Corpus Christi, TX, on Sunday.
Copyright 2013 ABC News Radio