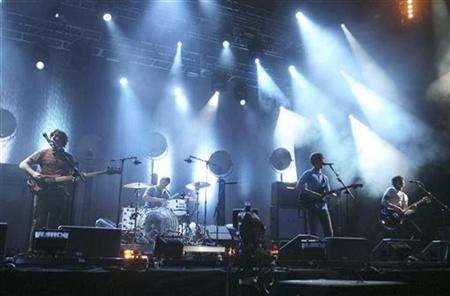 UNDATED (Z96.5) -- New Musical Express, NME, has released their list of top albums for 2012. NME.com is the world's most popular music site with over 7 million users per month visiting to get the latest in music news, concert tickets, video performances, artist reviews and more.
See below the list of NME's top 50 best albums of 2012.
50. Purity Ring: Shrines
49. Flying Lotus: Until the Quiet Comes
48. The 2 Bears: Be Strong
47. John Talabot: Fin
46. Bobby Womack: The Bravest Man in the Universe
45. Lana Del Rey: Born to Die
44. Kendrick Lamar: Good Kid, M.A.A.D City
43. Ratking: Wiki93
42. Paul Weller: Sonik Kicks
41. Ty Segall: Twins
40. Polica: Give You the Ghost
39. Liars: Wixiw
38. Teed: Trouble
37. Enter Shikari: A Flash Flood of Colour
36. The Vaccines: The Vaccines Come of Age
35. Metz: Metz
34. Hot Chip: In Our Heads
33. Graham Coxon: A+E
32. Bat For Lashes: The Haunted Man
31. Kanye West G.O.O.D Music: Cruel Summer
30. Breton: Other People's Problems
29. Mac Demarco: 2
28. Spiritualized: Sweet Heart, Sweet Light
27. Jessie Ware: Devotion
26. Spector: Enjoy It While It Lasts
25. Ariel Pink: Mature Themes
24. Merchandise: Children of Desire
23. Richard Hawley: Standing at the Skies Edge
22. Beach House: Bloom
21. Cat Power: Sun
20. Howler: America Give Up
19. Toy: Toy
18. Tribes: Baby
17. Grizzly Bear: Shields
16. Melody's Echo Chamber: Melody's Echo Chamber
15. Sharon Van Etten: Tramp
14. The XX: Coexist
13. DIIV: Oshen
12. David Byrne & St. Vincent: Love this Giant
11. Jack White: Blunderbuss
10. Django Django: Django Django
9. Jake Bugg: Jake Bugg
8. The Cribs: In the Belly of the Brazen Bull
7. Pond: Beard Wives Denim
6. The Maccabees: Given to the Wild
5. ALT-J: An Awesome Wave
4. Crystal Castles: (III)
3. Frank Ocean: Channel Orange
2. Grimes: Visions
1. Tame Impala: Lonerism
NME's number one album pick Lonerism, by psychedelic rock group Tame Impala, was also named album of the year at the Rolling Stone awards in 2012. NME critics reviewed the album as being a modern-day Beatles sound blending "warm, valve amp bite, voices" with "luscious harmonies" to create a unique melody.
Click here for the official Tame Impala YouTube channel to sample tracks from Lonerism.