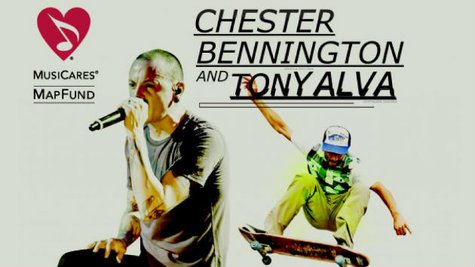 Chester Bennington will once again take the stage with Stone Temple Pilots bassist Robert DeLeo , guitarist Dean DeLeo and drummer Eric Kretz, this time at next week's MusiCares MAP Fund Benefit Concert in Los Angeles.
The appearance will be the second time that the Linkin Park frontman has partnered with STP: the group recently released a new single with Bennington, "Out of Time," which they debuted at an event in Los Angeles last weekend. You can score a free download of the studio version of the track at StoneTemplePilots.com .
In addition, former Guns N' Roses band mates Slash and Duff McKagan will share the stage with Bennington to celebrate his receiving the Stevie Ray Vaughan Award at the event, which recognizes his support of the MusiCares MAP Fund. Legendary skateboarder, surfer and musician Tony Alva also will be honored that evening with the From the Heart Award.
The MusiCares MAP Fund Benefit Concert will take place at the Club Nokia on May 30. The fund provides members of the music community access to addiction recovery resources, including emergency financial assistance for basic living expenses and medical expenses.
For more information, visit MusiCares.org .
Copyright 2013 ABC News Radio