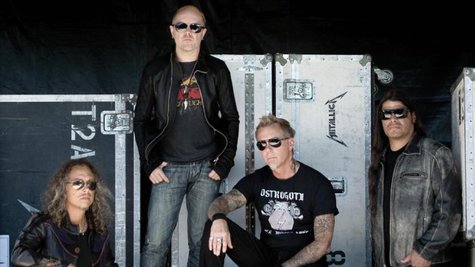 Frontman James Hetfield says that while Metallica has a number of songs written for their follow-up to 2008's Death Magnetic, they're finding it difficult to record the new album because of the other projects on which they're working.
"I want it done yesterday," Hetfield tells Billboard . "[The Orion festival] and this [3D] movie [ Through the Never ] is keeping us pretty busy at this point and it's taking a lot of our time and effort."
The singer adds that another reason for the album's delay is that the band has been touring extensively. "I guess basically what we're trying to do is pay for this movie, so the touring is keeping us from getting in there and finishing the record," he notes.
Hetfield also gave an update on the group's progress putting together Through the Never , which will premiere exclusively at every IMAX theater across North America starting September 27. "The film is not done, but we're extremely close," he explains. "There's a lot of different dynamics happening within this movie, and every time we go and see it and tweak here and there. It's like putting a song together -- only it's a little more expensive."
The second annual Orion Music + More festival will take place June 8-9 at Belle Isle Park in Detroit. In addition to headlining sets by Metallica and Red Hot Chili Peppers , the event will include performances from Rise Against , Deftones , Silversun Pickups , Dropkick Murphys and Foals .
Copyright 2013 ABC News Radio