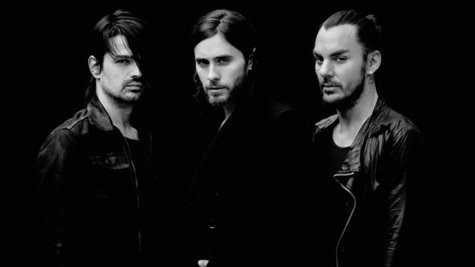 Frontman Jared Leto believes that 30 Seconds to Mars is much more than your average band. The singer says his group is dedicated to being creative both inside and outside the recording studio.
"We've always thought about 30 Seconds to Mars not just as a band but an art project," he tells MTV U.K. "A place where we would make music, we would make books, we would make art in general, short films, documentaries. I mean, really the music is the glue that binds it all together but it's certainly not just about the music."
30 Seconds to Mars is set to drop their fourth studio album, Love Lust Faith + Dreams , on Tuesday. Leto says the upcoming release was easier to make than their previous album, This Is War , mostly because they're no longer in trouble with record label EMI. "[ Love Lust Faith + Dreams ] is a very personal record," Leto explains. "It was a fun album to make because we weren't being sued for $30 million by our record company...so it was a different atmosphere."
EMI slapped 30 Seconds to Mars with the lawsuit when the band tried to leave the label in 2007.
Copyright 2013 ABC News Radio