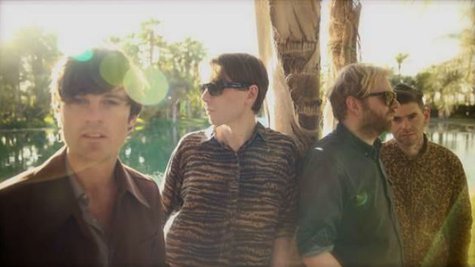 It's been four long years, but now Franz Ferdinand has returned with a new release. The group is set to drop their fourth studio album, Right Thoughts, Right Words, Right Action , on August 27.
The new release will feature 10 tracks, which frontman Alex Kapranos describes as "The Intellect Vs The Soul, played out by some dumb band."
You can order Right Thoughts, Right Words, Right Action now in a variety of formats. The release will be available as a standard CD or vinyl LP, a deluxe limited-edition two-CD or two-LP set featuring a disc of bonus live recordings, and as a limited-edition deluxe passport edition. The latter package will include a deluxe edition of each physical format of the album, a number of seven-inch and 12-inch vinyl singles, plus access to exclusive tracks and content.
Here's the track list for Right Thoughts, Right Words, Right Action :
"Right Action"
"Evil Eye"
"Love Illumination"
"Stand on the Horizon"
"Fresh Strawberries"
"Bullet"
"Treason! Animals."
"The Universe Expanded"
"Brief Encounters"
"Goodbye Lovers & Friends"
Copyright 2013 ABC News Radio