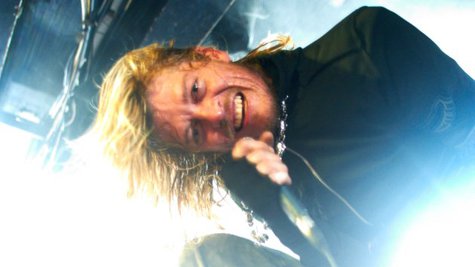 For the second time in two weeks, Wes Scantlin has found himself in the back of a police car. The Puddle of Mudd singer was arrested on Monday afternoon for allegedly roughing up his ex-wife, according to TMZ .
The gossip site says that authorities arrived at a business in West Hollywood, California around 3:30 p.m. after someone reported that Scantlin "shook his ex-wife and then tried to drag her by the arm or the shirt." After the police interviewed a number of witnesses and his ex-wife at the scene, they decided to arrest the singer for suspected domestic violence. One source tells TMZ that Scantlin was "extremely uncooperative" and "very mouthy" during his arrest. He is currently being held on $20,000 bail.
The incident occurred less than one week after the singer was arrested in Hollywood last Tuesday night after police discovered he had outstanding warrants.
Puddle of Mudd is scheduled to kick off a North American tour on June 14 at the Dakota Magic Casino in Hankinson, ND.
Copyright 2013 ABC News Radio