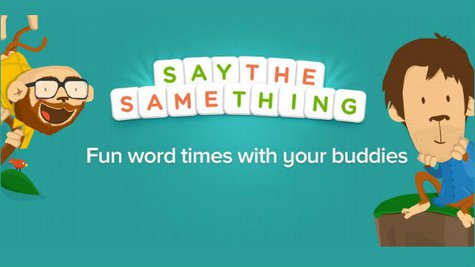 Think you can guess what your friends are thinking? That's exactly what you'll need to do to win the new word game released by OK Go . The Grammy-winners have just unveiled a free app, Say the Same Thing , which challenges you to blurt out the same word as your opponent.
Here's how to works: you and your friend each start with a random word, then you try to think of a word that's "in between" those two words and say it. If you both say the same thing, you win. If you don't, you and your opponent use those two words and keep playing until you both say the same thing.
"The game is similar to an old improv game that I used to play in person with friends from high school and college," says guitarist/keyboardist Andy Ross in a statement. "We started playing it as a band because it's the kind of thing people in vans and buses do, and it's great to play with people you know really well."
In addition to taking on your friends, the game also features an option where you can play against the members of the band. "It gives us something fun to do with [fans], something more substantial than tweeting hello at them or putting emoticons in their Instagram comments," notes frontman Damian Kulash .
OK Go is currently in the studio recording their follow-up to 2010's Of the Blue Colour of the Sky , which is due out in early 2014.
Copyright 2013 ABC News Radio