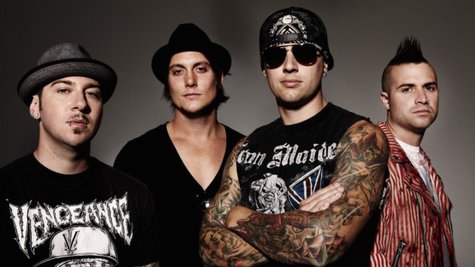 Good news for Avenged Sevenfold fans: the band is in the studio working on their follow-up to 2010's Nightmare .
The group delivered the announcement on their newly-redesigned website , which features a TV/radio device on the home page. When you click on channel 13 on the radio, frontman M Shadows can be heard discussing the upcoming release through a mess of static and traffic sounds.
"Writing this album took about six to seven months," he notes. "I know we promised the fans that we'd be back in the studio in January, but the reality is we had a bunch of good songs and we just wanted to beat those out…[and] make sure every song is as good as the next."
Shadows goes on to say that he knew the group would be ready to begin recording the new material as soon as he was "completely drained of all creativity" from the songwriting process. "Once we got to that point we knew we had the best material that we were going to get," he explains. "It's all about laying it down, so right now that's what we're doing."
If that isn't enough to assure you that A7X's got new music on the way, the band has posted a 26-second trailer that features footage of the band working in a recording studio.
A title and release date for the album has yet to be announced.
Copyright 2013 ABC News Radio