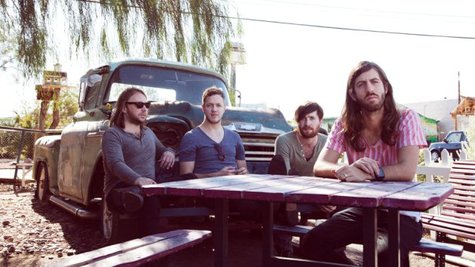 Imagine Dragons pay a touching tribute to their friend Tyler Robinson , who recently lost his battle with cancer, in the new video for " Demons " from the band's debut album, Night Visions .
While the main focus of the clip includes scenes of the group performing "Demons" at The Joint at the Hard Rock Hotel and Casino in their hometown of Las Vegas, the final minute features footage of frontman Dan Reynolds singing the group's hit single, "It's Time," with Robinson at a concert. A message appears at the end of the clip asking fans to contribute to the Tyler Robinson Foundation, which will provide financial assistance to families with children fighting cancer.
"Tyler Robinson...passed away unexpectedly while we were editing the video," the band writes in a joint statement. "He was only 17 years old and his courage was an inspiration to all of us. Forming the Tyler Robinson Foundation with his family was a way for us to honor his legacy by doing something positive -- donations to the Foundation will help families who are unable to afford cancer care for their children."
Copyright 2013 ABC News Radio