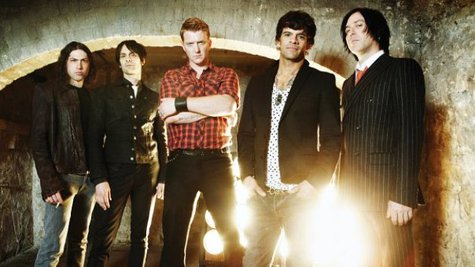 Queens of the Stone Age profiles a new track in a video trailer to promote their upcoming album, ...Like Clockwork .
The three-minute clip features a snippet of "I Appear Missing," a cut from the forthcoming release, accompanied by animation from U.K. artist Boneface . The video's storyline follows a man in a suit who wakes up bloody and covered in bandages. The man then floats across the desert and attempts to fly into the clouds, but sadly, he winds up falling to his death.
...Like Clockwork will arrive at all the usual outlets on June 4. The album will feature guest appearances by Foo Fighters frontman Dave Grohl , Trent Reznor from Nine Inch Nails , Scissor Sisters vocalist Jake Shears , former Screaming Trees frontman Mark Lanegan , pop icon Elton John , former Mars Volta drummer Jon Theodore , and Arctic Monkeys frontman Alex Turner . In addition, the release will include two former QOTSA members: bassist Nick Oliveri and drummer Joey Castillo .
Copyright 2013 ABC News Radio