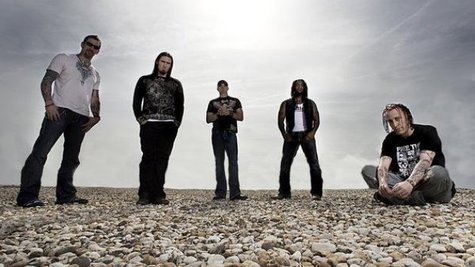 Lajon Witherspoon is proud of the fact that Sevendust didn't use a professional producer on their recently-released album, Black Out the Sun . The singer says he hopes that the group will continue the trend and self-produce their future albums.
"It's always fun to bring a producer in, but this time it was us by ourselves," he tells ABC News Radio. "We know what we like…and we work at a different pace than other people like to work at when they want to get paid. We go in and we get the job done and that's the way we like to go. If we gotta do it all night we gonna get it done so it was fun to do it that way."
Witherspoon adds that the next time he hopes to be in the studio is when he'll be recording his debut solo album. "In the future I plan on doing something, I don't know exactly what it is," he reveals. "Sevendust is my priority. I feel like if I definitely step out I wanna show people that I have so much more in me and who knows what I'll end up doing but…it'll be after everything slows down with this."
Sevendust is currently trekking across North America promoting Black Out the Sun . In addition, the band will making appearances at a couple of music festivals this summer including Ohio's Rock on the Range festival on May 19 and at Wisconsin's Rock USA festival on July 19.
Copyright 2013 ABC News Radio