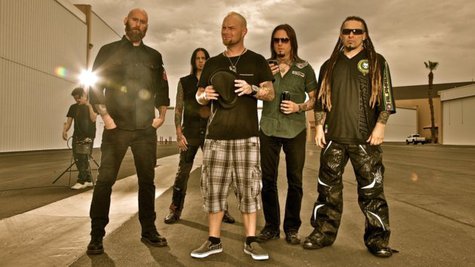 Five Finger Death Punch has a double album headed our way. The band announced that their fourth studio effort will be split into two volumes, which will be released at different times this year. The first installment arrives in stores on July 23, while the second will drop sometime in the fall.
"We came off the road after a couple of great years of touring and were really amped up to write the fourth record," says guitarist Zoltan Bathory in a statement. "We had this massive amount of music that's very dear to us, possibly the best material this band has ever created. At that point there was no way to decide which songs to leave off the album. So we made the decision to release them all."
Five Finger Death Punch will premiere the upcoming release's first single, "Lift Me Up," during their appearance at the fifth annual Revolver Golden Gods Awards ceremony on Thursday at Club Nokia in Los Angeles, California. The studio version of the song will arrive at radio on May 13 and will be available for purchase at all the usual online retailers the next day.
Copyright 2013 ABC News Radio