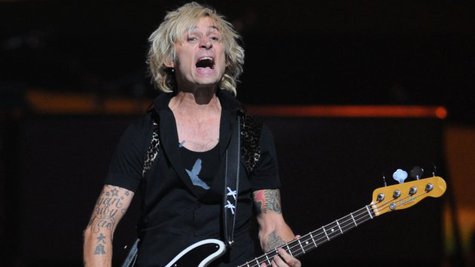 Green Day bassist Mike Dirnt has opened up about frontman Billie Joe Armstrong 's meltdown at a Las Vegas music festival last September, which prompted Armstrong to enter rehab for substance abuse treatment. Dirnt says that while he agreed with what Armstrong said during the outburst, he knew that the singer wasn't in a healthy state of mind.
"I know that's not Billie," he tells Rolling Stone . "But I was watching my friend and going, 'You're out of your f**king mind.' And we were dealing with a s**tshow."
The bassist notes that while the band had turned a "blind eye" to Armstrong's substance abuse, after the incident, Dirnt confronted the singer about his behavior. "For me, it started off as concern for my friend," he reveals. "Then it turned to anger. Sometimes you have a friend or loved one that needs you to shake them. They don't see a path out."
Green Day will perform a set at the South by Southwest festival on March 15 before kicking off their rescheduled North American tour, which was postponed after Armstrong entered rehab, on March 28 at the Allstate Arena in Rosemont, IL. Now that Armstrong is clean and sober, Dirnt adds that the band will be making some changes as to what will be offered up backstage at each stop on the tour.
"The backstage doesn't need to be a bar…and that's OK with me," he explains. "My thing is, good, bad or ugly, I gotta support my boy. I'm gonna back him up, and then I'm going to take it the next step further with him. And we're gonna do it offstage, too."
Copyright 2013 ABC News Radio