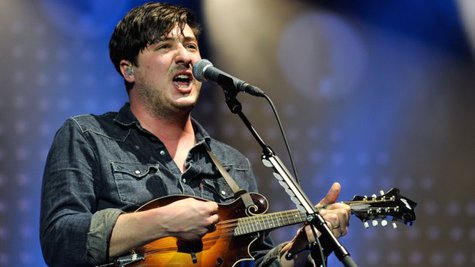 About six months ago, it was revealed that Marcus Mumford would be contributing his talents to the upcoming Coen brothers film, Inside Llewyn Davis . Now, the track list for the official soundtrack has been announced, and we know what the Mumford & Sons frontman will be singing.
According to the Nonesuch Records' website , Mumford will be performing on two tracks that will be featured in the film. The first is a traditional American folk song, "Fare Thee Well (Dink's Song)," which he performs with actor Oscar Isaac , who plays the title character of the film. The second track is called "The Auld Triangle," which Mumford sings with Justin Timberlake and Chris Thile , Chris Eldridge , and Gabe Witcher of the Punch Brothers .
The soundtrack for Inside Llewyn Davis will be released on September 17, while the film is expected to arrive in theaters on December 6.
According to IMDb.com , Inside Llewyn Davis is about "a singer-songwriter [who] navigates New York's folk music scene during the 1960s." In addition to Isaac and Timberlake, Inside Llewyn Davis also stars Garrett Hedlund , John Goodman and Mumford's wife, Carey Mulligan , who's also featured on the soundtrack.
Here's the complete track list:
"Hang Me, Oh Hang Me" -- Oscar Isaac
"Fare Thee Well (Dink's Song)" -- Marcus Mumford and Oscar Isaac
"The Last Thing on My Mind" -- Stark Sands
"Five Hundred Miles" -- Justin Timberlake, Carey Mulligan and Stark Sands
"Please Mr. Kennedy" -- Oscar Isaac, Justin Timberlake and Adam Driver
"Green, Green Rocky Road" -- Oscar Isaac
"The Death of Queen Jane" -- Oscar Isaac
"The Roving Gambler" -- John Cohen with the Down Hill Strugglers
"The Shoals of Herring" -– Oscar Isaac
"The Auld Triangle" -- Chris Thile, Chris Eldridge, Marcus Mumford, Justin Timberlake and Gabe Witcher
"The Storms Are on the Ocean" -- Nancy Blake
"Fare Thee Well (Dink's Song)" -- Oscar Isaac
"Farewell" -- Bob Dylan
"Green, Green Rocky Road" -- Dave Van Ronk
Copyright 2013 ABC News Radio