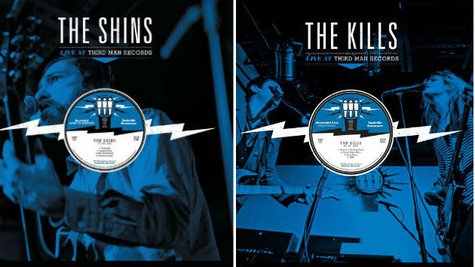 Jack White 's Third Man Records has announced that they'll be releasing live albums from The Shins and The Kills later this month. The upcoming 12" vinyl records will feature live sets recorded and mixed in real time at the Third Man Blue Room last October using the label's one-of-a-kind direct-to-acetate recording process.
The Shins Live at Third Man Records features eight tracks, mostly songs from the band's latest album, Port of Morrow . The Kills Live at Third Man Records , also boasts eight cuts, including performances of six songs from 2011's Blood Pressures .
While each album will cost $15, you can purchase the Rocktober Direct-to-Acetate Bundle , a package which includes both albums and an additional live record from Seasick Steve , for $40. All the albums are currently available for pre-order at ThirdManRecords.com and will be shipped on June 25.
Here is the track list for The Shins Live at Third Man Records :
"Australia"
"Simple Song"
"Bait and Switch"
"Phantom Limb"
"So Says I"
"The Rifle's Spiral"
"Marisa" / "No Way Down"
"Port of Morrow"
Here is the track list for The Kills Live at Third Man Records :
"Heart is a Beating Drum"
"Future Starts Slow"
"Kissy Kissy"
"DNA"
"Baby Says"
"Tape Song"
"Pots and Pans"
"Last Goodbye"
Copyright 2013 ABC News Radio